Hilldale Middle School
Schedule Pick-Up Dates
Schedules may be picked up from 8 a.m. - 11 a.m and 1 p.m. - 4 p.m.
August 4 - 8th grade (Supplies List)
August 5 - 7th grade (Supplies List)
August 6 - 6th grade (Supplies List)
August 7-8 - NEW ENROLLMENT
All 6th graders going to the 7th will need an updated shot record showing that they have received the T-dap vaccine BEFORE they can pick up their schedules for next school year.
---
JOM Supplies Pick-Up
August 8
9:00 am-12:00 pm
1:00 pm-3:00 pm
---
Hilldale Middle School has been named a
2014 Oklahoma School of Character
by the Character Council of Oklahoma.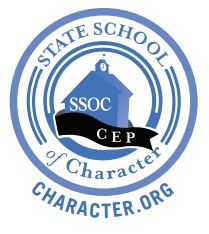 Read the article from the Muskogee Phoenix.
---
Hilldale Middle School Receives Two Promising Practices in Character Education for 2013
Hundreds of effective strategies that develop good character in young people are recognized.
Washington, DC - The Character Education Partnership (CEP) has announced that it will award 262 Promising Practices to schools, districts, and youth-serving organizations from across the United States as well as from Canada, China, India, Mexico, and New Zealand.
"These best practices offer educators and others working with young people practical ways to develop empathy, conflict resolution skills, and good citizenship," said Lara Maupin, Program Director. "CEP is excited about being able to recognize these educators and share their work with others around the world."
This year's winning practices include unique anti-bullying programs, creative ways to integrate character and academic subjects, effective strategies for developing student leadership, and activities that build community within the school and beyond.
CEP sponsors the annual program to showcase innovative best practices that are having an impact across the nation and abroad. CEP encourages educators with similar needs to learn from and even replicate these successful initiatives.
CEP will honor the 2013 recipients at the 20th National Forum on Character Education, to be held in Washington, DC, October 24-27, 2013.