2023 National Native American Environmental Awareness Summer Youth Practicum (SYP)
DEADLINE 5/5/2023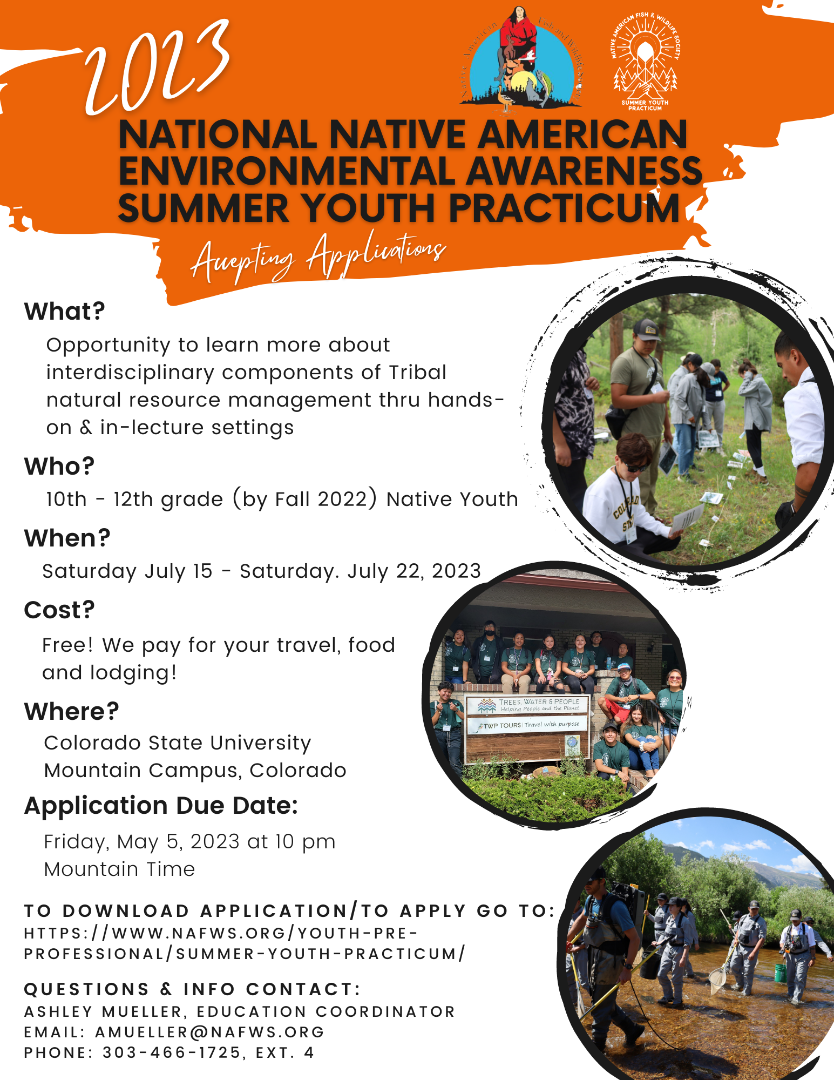 The Native American Fish and Wildlife Society (NAFWS) is proud to announce our 2023 National Native American Environmental Awareness Summer Youth Practicum (SYP) will be having an in-person session this year. Please open and read attachments.
Are you an incoming 10th – 12th grader or do you know of someone that will be in the 10th – 12th grade that is interested in learning more about: Natural Resources? Wildlife? Recreation? Fish? Rivers? Traditional Ecological Knowledge? Range Management? Forestry? Watershed? Tribal Lands? Sacred Areas? OR the preservation, protection, conservation, enhancement of natural resources? Then, the SYP is for YOU! Please Apply!
The practicum is designed to provide Native American students (10th – 12th grade) an opportunity to gain hands-on and in lecture experience in the interdisciplinary components of natural resource management and Indigenous knowledge. One of the goals of the Society is to educate Native American youth to understand the importance of professional natural resource management and the interconnectedness to culture, as well as encourage them to continue their education and pursue careers in the natural resource fields.
NAFWS Education Coordinator will be hosting an informational webinar on the application process and program:
Friday, March 24, 2023 at 6:30 pm Mountain Time on Zoom
Friday, April 14, 2023 at 6:30 pm Mountain Time on Zoom

2023 National SYP - Fillable Application Packet.pdf